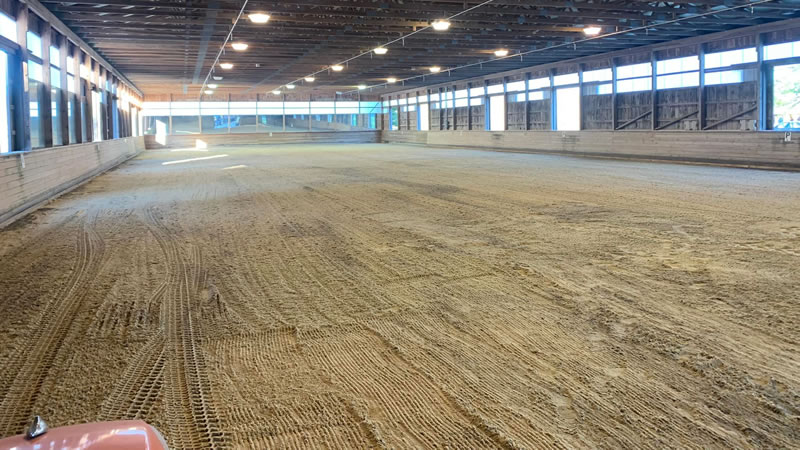 Equestrian Facilities, Riding Arenas & Riding Ring Construction
Do you have a large rural property and want to make improvements to the property for your equestrian lifestyle?  Do you operate a busy equestrian facility and you're looking to make some upgrades to the property such as a new riding arena or riding ring?  Finding a contractor that specializes in your specific needs can be tough!
Celia Co. Inc. is an excavating contractor based out of Warminster, PA and providing services in the surrounding areas from Bucks County to Montgomery County.  We specialize in the construction of equestrian facilities including excavating services to build and grade new riding arenas, clear areas for riding rings, touch up old riding rings, and more.  From the initial layout of your equestrian facilities through the excavation, final grading for drainage, and quality top layer material selection and spreading, we can help.
From small round rings to large riding arenas, both covered and open we use laser guided measurements to ensure your arena has proper drainage and minimal maintenance required.
Equestrian Facility Construction:
Riding arena construction
Riding ring construction
Riding arena maintenance and repairs
Riding arena drainage repairs
Horse paddock excavation and land clearing
Your Equestrian Arena & Drainage
Proper drainage is a problem for many equestrian or horse properties that were built without proper planning by an inexperienced contractor or even the property owner themselves. Not understanding the lay of the land and utilizing geography to your advantage, poor construction practices, and poor material selections can leave a property owner extremely disappointed with their investment. Celia Co. Inc. has the equipment and the knowledge to plan and build your riding arena or riding ring so that poor drainage won't be a problem. Starting with the proper stable soils and base grading to the top footing layer, we guarantee proper drainage and performance for years of enjoyment on your new riding arena.
Your Equestrian Arena & Proper Materials
There are several layers that go into the construction of riding arena or equestrian arena. If built on unsuitable/unstable expansive soils, drainage and arena performance will never be satisfactory. Ensuring stable sub soil and grading practices prior to topping the footing layer is extremely important. We take every aspect from arena placement/planning to top footing layer into consideration and provide you with the best possible performing arena.
Why Choose Celia Co. Inc.?
Celia Co. Inc. is a locally owned and operated excavating and transport company based out of Warminster, PA and our service area includes Bucks County and Montgomery County and the surrounding areas . We are licensed, insured, and we own and maintain our own fleet of heavy equipment including excavators, dozers, skid steers, and more.

Our business has grown steadily through word of mouth because of our ability to solve our customers problems using our field experience and expertise. Safety, the quality of our work and our customers satisfaction are our main concerns. Our job is not done until you are satisfied. We never charge for quotes or consultations. Contact us with any questions you have in regards to your property.
If you'd like to schedule and estimate or consultation for the construction of your riding ring or equestrian arena please give us a call (215) 443-9743 or fill out our estimate request form and we'll get right back to you.