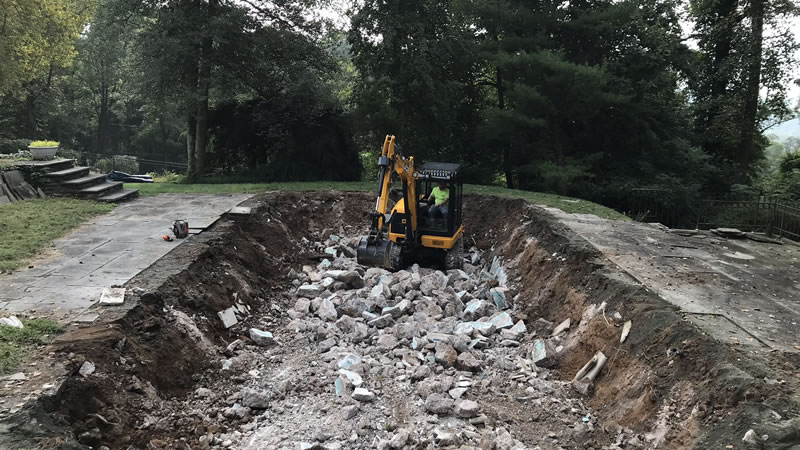 Choosing an excavating contractor for your construction project can be difficult if you don't have a solid word-of-mouth recommendation from a friend or family member.  There are literally hundreds of excavation contractors in Pennsylvania so how do you know the one you're about to choose for your project is going to be a great fit and do a good job for you?
Here are a few questions you can ask to help you determine which company to hire:
#1.  Are you licensed and insured?
You'd be surprised how many contractors are not sufficiently licensed and insured.  Any legitimate contractor should have no problem providing these documents when asked.  Don't hire an excavation contractor that doesn't carry sufficient insurance!  When you bring heavy equipment onto your property the potential for damage increases.  What are you going to do if the contractor strikes a water line or a gas line?  What if they cause significant damage to your property or even worse your neighbors property?  These are all scenarios that have happened to homeowners more times than we can count!  Don't be the next one.
Celia Co., Inc. is licensed by the state as a contractor and we carry liability policies to protect us, our equipment, and your property.
#2. How much experience do they have completing projects similar to yours?
There are many different areas of expertise when it comes to excavation.  Whatever your project might be, you want to choose an excavating company that has a good track record of completing the same type of projects.  If you need underground utilities installed then look for a contractor that specializes in this area.  If you need to have your lot cleared and graded in preparation for a construction project then choose a contractor with experience in this area.
Choosing an excavation company that is experienced in the specific type of project you need completed will reduce headaches and help prevent any unexpected surprises.  Unless you're dealing with a very experienced operator you generally don't want your property to become an experiment for someone who is new to the business.
#3.  Do they have any previous customers you can contact?
Speaking to the previous customers of a business is a great way to get a feel for the company and how they do business.  Any reputable excavation company shouldn't have a problem referring you to a few customers who've had similar projects to yours completed.  If you're about to spend significant money on an excavation project you want to know the company was reliable, showed up on time, and was able to complete the project in a reasonable time-frame and without delays.
#4.  Who is responsible for pulling any permits or organizing inspections that might be required?
Permits are required for most of the projects you'd hire an excavating company for.  Property grading, lot clearing, utility trenching, culvert installation, and more all require permits to complete the work.  It is generally the contractors responsibility to pull the appropriate permits and make sure all work is completed in accordance with any local statutes or by-laws.
Some excavation projects will also require inspection and will need to be signed off by an engineer.  The contractor you choose should be upfront about the permits required for your specific project and they will have no problem organizing the permits and appropriate inspections.
#5.  Are there any additional fees for transportation or dumping of debris?
Many excavating projects create a lot of unwanted debris on your property.  You could have tree waste, stumps, rocks, boulders, piles of dirt or clay, and more.  When your contractor provides an estimate does the estimate include removal and disposal of the debris or will there be additional charges for this?  Trucking and hauling is expensive so you want to be sure your estimate is all inclusive.
Are You Looking For A Reliable Excavating Contractor In Bucks Or Montgomery Counties?
Celia Co., Inc. has been providing excavating services to Bucks and Montgomery County, PA since 1981.  For nearly 40 years we have been a trusted name in the local excavation and trucking industry.  We maintain a fleet of our own equipment, we are properly licensed by the state, and we are properly insured for both residential and commercial construction projects.  We are clear communicators and we have a solid track record of thousands of happy customers.
If you'd like to schedule an estimate for your excavation project please give us a call (215) 443-9743 or fill out our contact form and we'll get right back to you.